Mary Knight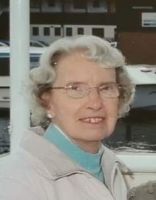 We wish to record the homecall of Mary Knight who passed away on December 18th 2020.
Mary was a very loyal prayer partner and also a regular guest on many of our project visits and holiday conferences. She passed away peacefully in a care home in Norfolk.
Details have now been released about her committal and she will be buried in Southend on Thursday January 21st at 1.45.p.m. This will be a small family affair, but it is intended that there will be be a 'Celebration of Mary's Life ' event sometime in the summer when hopefully, the Covid restrictions will be eased.
Mary's family have instructed Rosedale Funeral Home to open a Tribute Page to Mary, and donations can be made in lieu of flowers. These will be given to support the ministry of Flame Trust Ltd and Smile.
This page can be accessed online here (the donation links are at the foot of the page).
Mary was passionate about mission ministry and travelled widely with family and friends, ministering in Kenya, Uganda, Peru, Macedonia and Kosovo. In more recent days, she was limited by her frailty and illness but she will be remembered by those of us in Flame for her unswerving prayer commitment to all aspects of our ministry. A wonderful lady who will not be forgotten.
Please pray for her family in their sad loss at this time.